---
PVC LAYFLAT HOSE
Our Lay Flat Delivery Hose, commonly referred to as lay flat hose, discharge hose,delivery hose, pump hose, and flat hose is perfect for use with water, light chemicals and other industrial, agricultural, irrigation, mining and construction fluids. Manufactured with a continuous high tensile strength polyester fiber circularly woven to provide reinforcement, it is one of the most durable lay flat hoses in the industry and is designed as a standard duty hose in residential, industrial and construction applications.
This hose is very strong, yet relatively lightweight and it resists twisting and kinking. It is resistant corrosion and anti-aging.
It can be coupled with aluminum, malleable or Gator Lock shank connectors or quick connects through a variety of methods, including standard hose clamps or crimp on connectors.It works well for agricultural, construction, marine, mining, pool, spa, irrigation, flood control and rental purposes.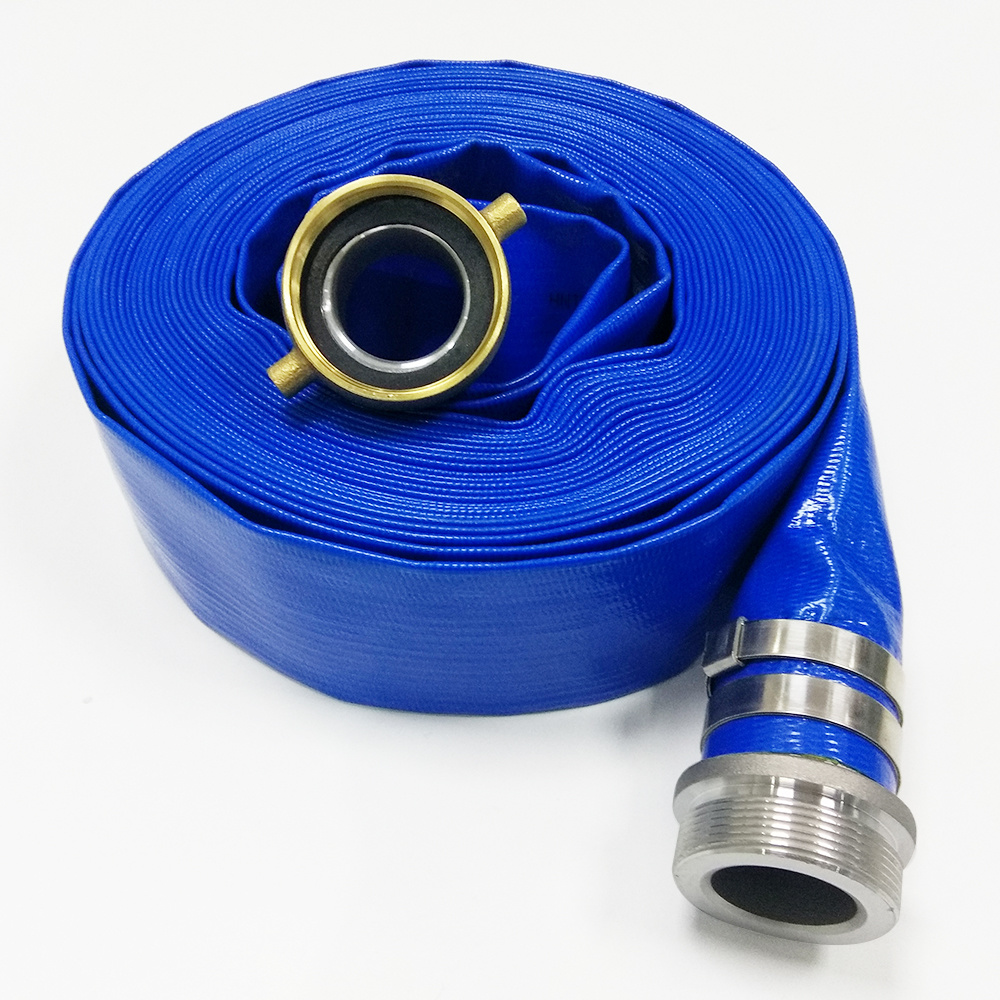 Features:
1.Lays Flat for easy, compact storage and transportation
2.Does not absorb water and is mildew proof
3.Resistant to grease, oil and many chemicals and acids
4.Reinforced with spiral plies and longitudinal synthetic cords for strength, durability, flexibility
5.UV Protected to withstand outdoor conditions,Non-toxic,No-smell
6.Assemblies and/or cut lengths available.
7.Burst pressure 3 times working pressure.
Application
1.Designed for light and heavy duty applications
2.Used in agricultural equipment where continuous water flow through irrigation systems is required
3.water pump, pool & spa, construction, mines and marine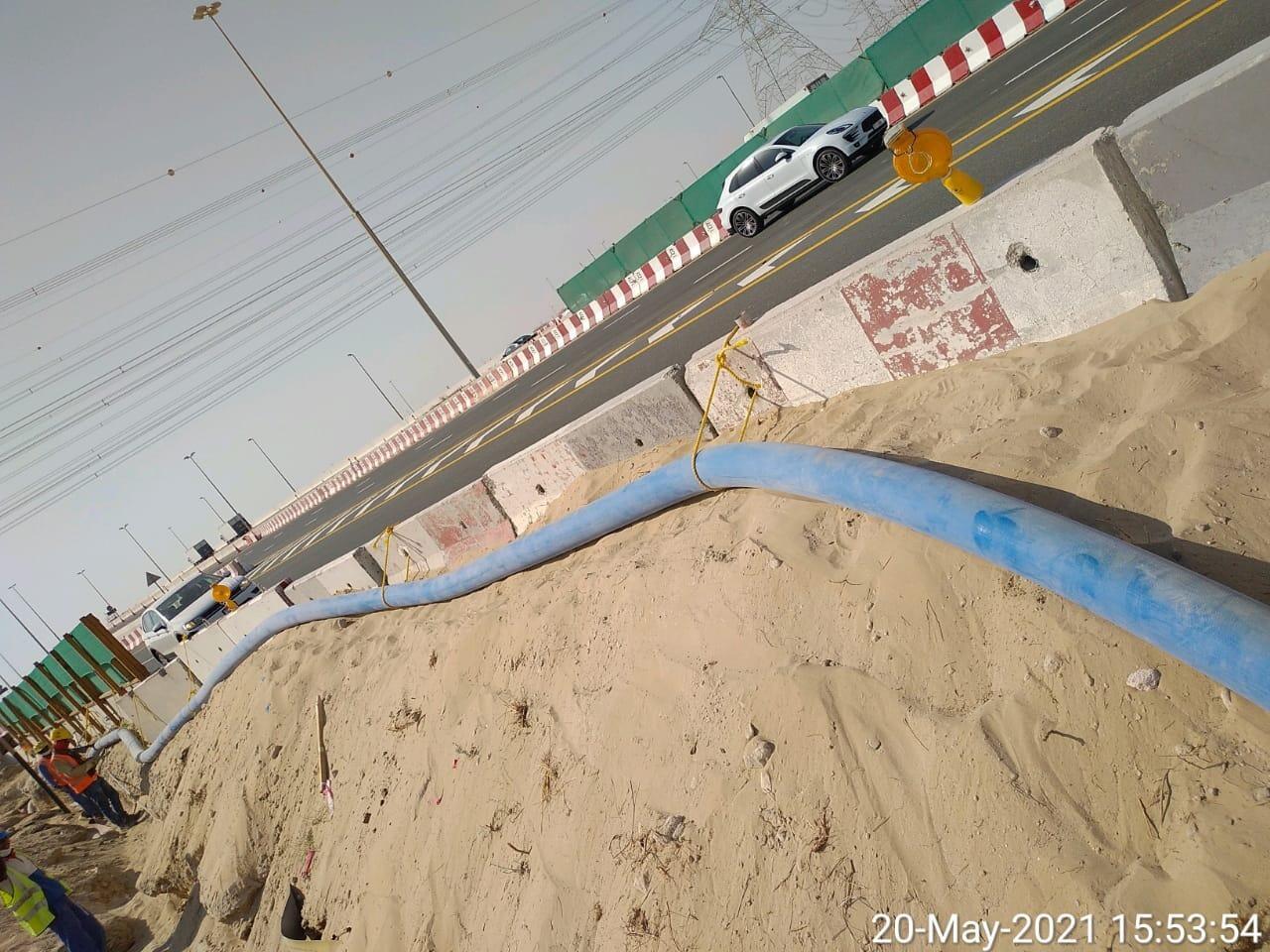 Technical Specs
1.PVC tube and cover of the hose extruded simultaneously to ensure maximum bonding and high quality.
2.Manufactured with continues high tensile strength polyester fiber woven to provide reinforcement
3.Formulated with UV Protectors
4.Working Temperatures -5℃ ~ 65 ℃
Standard Duty PVC Layflat Hose
Product Number
Inner Diameter
Outer Diameter
Working Pressure
Burst Pressure
weight
coil
inch
mm
mm
bar
psi
bar
psi
g/m
m
ET-LFHS-020
3/4
20
22.4
4
60
16
240
100
100
ET-LFHS-025
1
25
27.4
4
60
16
240
140
100
ET-LFHS-032
1-1/4
32
34.4
4
60
16
240
160
100
ET-LFHS-038
1-1/2
38
40.2
4
60
16
240
180
100
ET-LFHS-051
2
51
53
4
60
12
180
220
100
ET-LFHS-064
2-1/2
64
66.2
4
60
12
180
300
100
ET-LFHS-076
3
76
78.2
4
60
12
180
360
100
ET-LFHS-102
4
102
104.5
4
60
12
180
550
100
ET-LFHS-127
5
127
129.7
4
60
12
180
750
100
ET-LFHS-153
6
153
155.7
3
45
9
135
900
100
ET-LFHS-203
8
203
207
3
45
9
135
1600
100
ET-LFHS-255
10
255
259.8
3
45
9
135
2600
100
ET-LFHS-305
12
305
309.7
2
30
6
90
3000
100
ET-LFHS-358
14
358
364
2
30
6
90
5000
50
ET-LFHS-408
16
408
414
2
30
6
90
6000
50
Medium Duty PVC Layflat Hose
Product Number
Inner Diameter
Outer Diameter
Working Pressure
Burst Pressure
weight
coil
inch
mm
mm
bar
psi
bar
psi
g/m
m
ET-LFHM-020
3/4
20
22.7
7
105
21
315
110
100
ET-LFHM-025
1
25
27.6
7
105
21
315
160
100
ET-LFHM-032
1-1/4
32
24.4
7
105
21
315
190
100
ET-LFHM-038
1-1/2
38
40.4
7
105
21
315
220
100
ET-LFHM-051
2
51
53.7
6
90
18
270
300
100
ET-LFHM-064
2-1/2
64
67.1
6
90
18
270
430
100
ET-LFHM-076
3
76
79
6
90
18
270
500
100
ET-LFHM-102
4
102
105.8
6
90
18
270
800
100
ET-LFHM-127
5
127
131
6
90
18
270
1080
100
ET-LFHM-153
6
153
157.8
6
90
18
270
1600
100
ET-LFHM-203
8
203
208.2
5
75
15
225
2200
100
Heavy Duty PVC Layflat Hose
Product Numbler
Inner Diameter
Outer Diameter
Working Pressure
Burst Pressure
weight
coil
inch
mm
mm
bar
psi
bar
psi
g/m
m
ET-LFHH-020
3/4
20
23.1
10
150
30
450
140
50
ET-LFHH-025
1
25
28.6
10
150
30
450
200
50
ET-LFHH-032
1-1/4
32
35
10
150
30
450
210
50
ET-LFHH-038
1-1/2
38
41.4
10
150
30
450
290
50
ET-LFHH-051
2
51
54.6
10
150
30
450
420
50
ET-LFHH-064
2-1/2
64
67.8
10
150
30
450
700
50
ET-LFHH-076
3
76
81.1
10
150
30
450
850
50
ET-LFHH-102
4
102
107.4
10
150
30
450
1200
50
ET-LFHH-153
6
153
159
8
120
24
360
2000
50
ET-LFHH-203
8
203
209.4
6
90
18
270
2800
50
PVC layflat hose product process: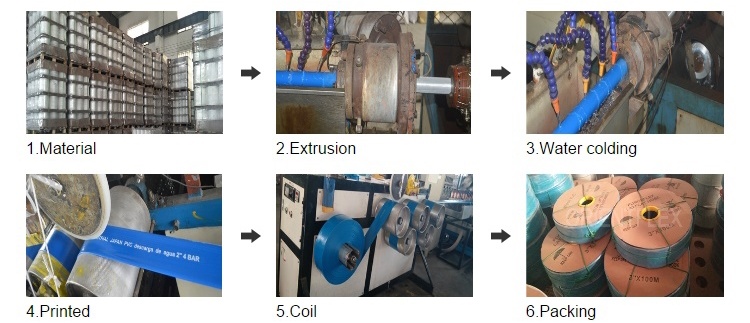 PVC layflat hose packaging